The Best All-in-One Computer
Updated Dec 10, 2022
When you buy through our links, we may earn a small commission at no additional cost to you.
If you're looking for a shared family-room PC or a basic desktop for your new home office or classroom, there's no more efficient use of space than an all-in-one PC. These PCs combine a good-size monitor, a fast-enough computer, a basic webcam, and speakers into the same amount of space as a typical computer monitor occupies, and they do it with fewer cables. We think HP's All-in-One 24-df1036xt provides the best combination of screen quality, performance, and value.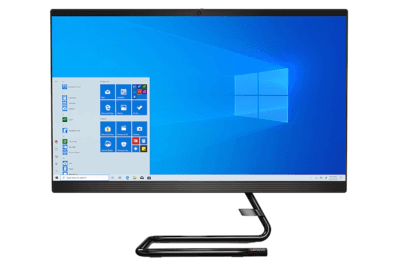 Lenovo IdeaCentre AIO 3 (AMD)
Better performance, not as good a screen
The IdeaCentre AIO 3, another 24-inch 1080p all-in-one, runs on an AMD Ryzen processor that provides enough performance for light gaming and even photo and video editing. But its screen isn't quite as colorful or accurate and suffers from uneven backlighting.
Another good choice