The Best Artificial Christmas Tree
Updated Dec 11, 2022
When you buy through our links, we may earn a small commission at no additional cost to you.
We've set up enough artificial Christmas trees to know that with care, decoration, and attention to detail, many of them can look beautiful. National Tree Company's 7.5-foot Feel Real Downswept Douglas Fir stands out as a realistic, competitively priced, versatile, and attractive option that we recommend first among the dozen-plus trees we've tried since 2016. But with experience, we've also come to recognize that there's no single "best" artificial tree out there. Our goal is to introduce you to reliable manufacturers, and our picks are among their best examples.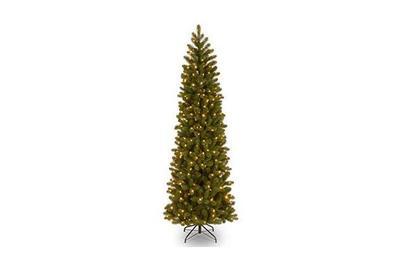 National Tree Company 7.5-foot Feel Real Downswept Douglas Fir Pencil Slim (PEDD4-392D-75)
A slimmer version of our pick
Artificial trees offer a lot of versatility, as this space-saving version of our pick proves. If you don't want a tiny tree in a small room, consider a slim model with a minimal footprint.
Another good choice