The Best Dog Beds
Updated Dec 10, 2022
When you buy through our links, we may earn a small commission at no additional cost to you.
In the right dog bed, your pup will have an even better time drooling, rolling, and snoozing. Some need a durable bed that will stand up to the toughest canine clawing, while older dogs may prefer a plush bed with just enough support for their delicate frames. After years of research, we've found six options that will satisfy the pickiest of pooches, including a cuddler-style dog bed, a luxe dog bed with cushion that rivals human mattresses, a lounger bed perfect for large dogs, an elevated dog bed, a crate-liner bed, and an easy-access bed for senior dogs or dogs with disabilities.
FurHaven Pet Orthopedic Ultra Plush Lounger
For large dogs
This mattress-style bed offers plenty of legroom for bigger breeds, dogs who like to stretch, and senior dogs who need cushiony support. Some Amazon reviewers said the zipper may break after several washes, but that didn't occur during our testing.
We recommend
K&H Original Pet Cot
Good for outdoors or keeping cool
This sturdy, cot-style dog bed sits several inches off the ground, allowing air to flow underneath. It's great for a pup lounging outside in the sun, but we don't recommend it for older dogs or dogs with arthritis because the height makes it harder to use.
We recommend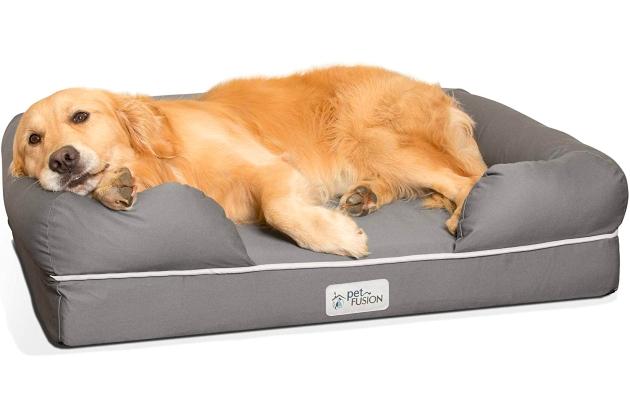 PetFusion Ultimate Dog Bed
For dogs with limited mobility
This bed has a lower entry point than most, so it is easier for senior dogs or dogs with mobility issues to climb into. But the side bolsters didn't retain their shape as well as we would've liked after washing, especially given this bed's higher price.
We recommend