The Best Men's Boxer Briefs
Updated Dec 11, 2022
When you buy through our links, we may earn a small commission at no additional cost to you.
The best boxer briefs let you forget that you're wearing anything at all. They should be soft and nearly invisible against your skin, with seams that don't pinch and a perfect amount of elasticity that won't sag or stretch out during the day. We've compared 25 brands of boxer briefs and tested 16 over three years, and we've found five excellent pairs to suit a variety of styles and budgets.
Mack Weldon 18-Hour Jersey Boxer Brief
A conservative profile with a reassuring heft
Sturdy but breathable fabric and a darted pouch give these boxer briefs solid support and a subtle silhouette. They come with a fly and are available in a wider range of colors and traditional patterns than most other underwear brands we tested.
We recommend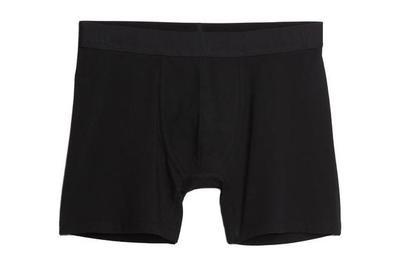 Gap 5″ Boxer Briefs
Soft, well-made boxers at a reasonable price
Among the softest we've found—they feel like a favorite T-shirt—these boxer briefs may lack some of the more detailed features or high-end construction of our other picks, but they're comfortable, well built, and half the price of higher-end offerings we tested.
We recommend