The Best Surge Protector
Updated Dec 10, 2022
When you buy through our links, we may earn a small commission at no additional cost to you.
Any power strip will work in a pinch to add a few extra outlets to a room, but it's important to find one that won't let harmful power surges fry your electronic devices or start a house fire. We've spent more than 150 hours researching and testing surge protectors, and we're confident that the Tripp Lite Protect It 12-Outlet Surge Protector offers the best combination of protection and outlet quantity at a reasonable price. It absorbs common household surges—up to thousands of volts—before they reach your electronics, preventing damage and fires. And you don't have to wonder whether it's still doing its job, because once its protection has worn out, it safely cuts the power so you know it's time to get a replacement.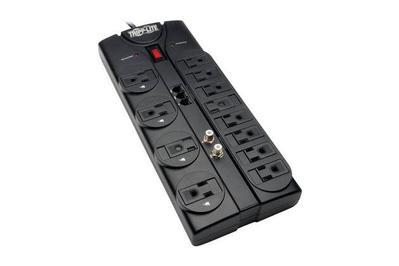 Tripp Lite Protect It 12-Outlet Surge Protector TLP1208TELTV
The best surge protector
In testing, this surge protector was one of the best at preventing extra voltage from reaching its outlets. It also safely stops all power once the protection wears out, and it has 12 AC outlets plus coaxial and phone ports.
We recommend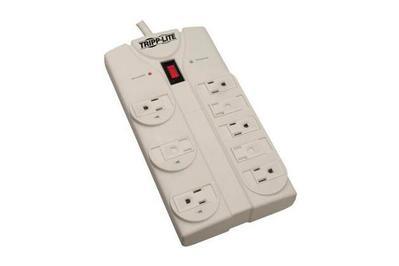 Tripp Lite Protect It 8-Outlet Surge Protector TLP825
For reaching faraway outlets
Tripp Lite's eight-outlet TLP825 has a 25-foot cord, which is three to four times the length of most surge protector cords. It has fewer outlets than our top pick and no extra ports, but it performed almost as well in our surge tests.
Another good choice