The Best Portable Power Strips and Surge Protectors With USB Charging
Updated Dec 11, 2022
When you buy through our links, we may earn a small commission at no additional cost to you.
Wall outlets are in short supply on planes and busses and in airports and hotels, so packing a portable power strip is a must for frequent travelers. After researching dozens of models and testing the top contenders, we think the best power strip for North American travel is a product sold under two different brands: You can find it as either the Accell Home or Away Surge Protector or Tripp Lite Protect It 3-Outlet Surge Protector. They're functionally identical, so just pick the one that's cheaper when you're ready to order. Both sell for about $20, have three outlets and two USB-A charging ports with adequate spacing for bulkier plugs, and are smaller and lighter than any other travel model we've tested.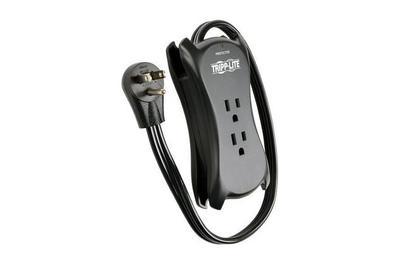 Tripp Lite Protect It 3-Outlet Travel-Size Surge Protector
Better surge protection with a cord
This slightly larger strip is the only portable option we tested with truly reliable surge protection capabilities. The 18-inch cord adds a little extra bulk but gives you more flexibility than models that plug directly into the outlet.
Another good choice