Our Favorite Weighted Blankets (Are All Machine-Washable)
Updated Dec 11, 2022
When you buy through our links, we may earn a small commission at no additional cost to you.
Sometimes you just want a hug—or, at the very least, a big, fluffy cat to curl up in your lap. When neither is available, there's the weighted blanket—a heavier-than-usual throw or comforter that's meant to wrap the body in a soothing embrace. It's hard to say which weighted blanket (if any) is the best, because one person's "gentle pressure" is another's "Help, I'm trapped!" But quality and washability are good starting points. We tested 16 weighted blankets by chilling out under them, heaving them into the wash, and hauling them out of the machine to dry—and we found five that are notably comfortable, solidly constructed, and easy to care for.
Nest Bedding Luxury Weighted Blanket
A giant lovey to snuggle in
Cotton on one side, fleece on the other, this machine-washable comforter allows you to choose which material feels better against your skin. No duvet cover is available, so you also need to like the look of the naked light-gray comforter.
We recommend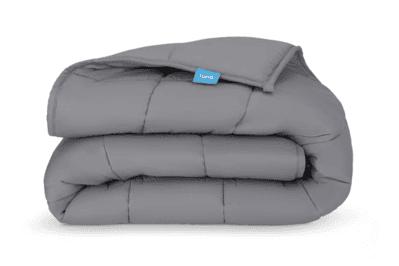 Luna Weighted Blanket
A budget option that doesn't feel cheap
Smooth against the skin, the Luna looks and feels more balanced than most weighted blankets, especially with the duvet cover (sold separately). But the duvet cover, though soft, isn't as tightly stitched as others we've seen, and its zipper looks cheap.
We recommend
Sommerfly Sleep Tight Weighted Blanket
A weighted blanket that's just right for kids
Co-founded by an occupational therapist, Sommerfly offers a blanket with a durable, thoughtful design as well as helpful customer service. The cutout at the top helps keep kids' heads safely uncovered. Adult testers found the blanket too beanbag-y, though.
We recommend