The Big Berkey Water Filter System: Uncertified and Inconvenient
Updated Dec 11, 2022
When you buy through our links, we may earn a small commission at no additional cost to you.
The Big Berkey Water Filter has a strong following. And in the years we've spent researching the best water filter pitchers and the best under-sink water filters, we've been asked about the Big Berkey several times. Its manufacturer claims the filter can remove far more contaminants than other filters. Yet the Big Berkey is not independently certified to NSF/ANSI standards, like our other filter picks are.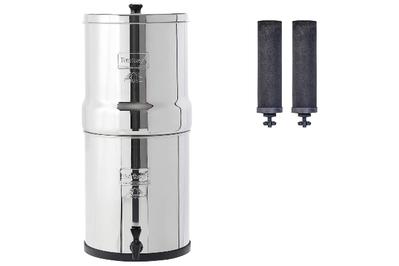 Big Berkey with Black Berkey Filters
Large, pricey, and lacks NSF/ANSI certification
Berkey countertop systems and filters are much more expensive and less convenient to use than other water-filtration options. And the manufacturer's performance claims don't have independent certification to national standards.
We recommend