The Best Smart Thermostat
Updated Dec 10, 2022
When you buy through our links, we may earn a small commission at no additional cost to you.
A smart thermostat automatically adjusts your heating and cooling systems to keep you comfortable and save you money. But these are not one-size-fits-all devices. The best model for someone who hopes to eke out every last BTU of efficiency and cost savings will be very different from a thermostat for someone who just wants everything to be as simple as possible. The Ecobee Smart Thermostat Premium—our pick for the best smart thermostat—falls into the first category. In addition to offering a wide array of settings to refine your home's climate control, it has a built-in Alexa smart speaker to receive voice commands without the need for other devices. In our testing, this thermostat did the best job of keeping the whole house consistently comfortable—thanks to its savvy remote sensors and its ability to take humidity into account when adjusting the temperature. For a less complicated option, the Google Nest Learning Thermostat remains a good choice for anyone who is averse to fiddling with settings menus, since its built-in AI does most of the work for you.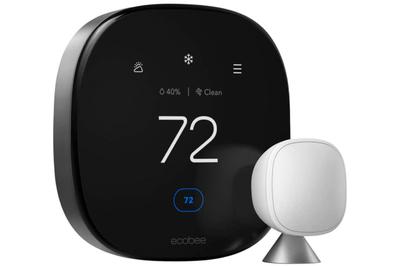 Ecobee Smart Thermostat Premium
The best smart thermostat
Ecobee's top-tier model outperformed all other thermostats, and it comes with the best remote sensor we've tested. It has an air-quality monitor, as well as a built-in microphone, speaker, and Alexa for voice control, but it also works with most smart-home platforms.
We recommend