The Best, Most Comfortable Bras
Updated Dec 10, 2022
When you buy through our links, we may earn a small commission at no additional cost to you.
We could all use a little extra support these days. Whether you're shopping for your first bra or looking to upgrade some lackluster staples, this is a good place to start. We think any bra you put on your body should be comfortable and well constructed. And it should make you feel beautiful. To find some of the best bras, we spent 23 hours researching bras and talking with industry experts about what makes a great one. Then we enlisted a panel of four testers of different sizes who spent countless hours wearing 43 models from 19 brands—pitting industry titans against fledgling startups. We're confident that our 10 final recommendations will suit a slew of moods, bodies, and style preferences.
ThirdLove 24/7 Classic Uplift Plunge Bra
A shape-shifting everyday bra
This versatile, cute, comfy bra has removable padding, so it's great for daily wear. But it can also transform to provide a subtle push-up for special occasions. It comes in a wider range of sizes than our other picks, including half-sizes, but there are only two colors.
We recommend
Aerie Real Sunnie Wireless Lightly Lined Bra
A weightless T-shirt bra
This pull-on bra offers the shaping and definition of a more structured bra but feels more like a bralette. Without an underwire, hooks, or visible seams, it lies flat and doesn't show under form-fitting clothing. It tops out at a 40-inch band, however.
We recommend
Harper Wilde Base Bra
A bra that won't quit
This sturdy yet buttery-soft bra will support your breasts through whatever the day throws at you. It's comfortable, elegant-looking, and flattering on a wide variety of body types. It's also one of our least expensive picks. But if you have extra-sensitive skin, you might find the hook-and-eye a bit itchy.
We recommend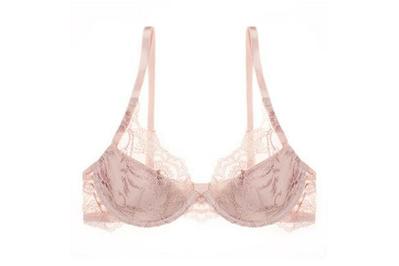 Journelle Anais Plunge Bra
A stunning lace bra
This exquisite bra is wrapped in fine Leavers lace (one of the most expensive types of lace to manufacture). It has a kitten-soft velveteen lining, and it's as supportive as it is beautiful. It comes in fewer band sizes than most of our other picks, but it goes from an A to a G cup.
We recommend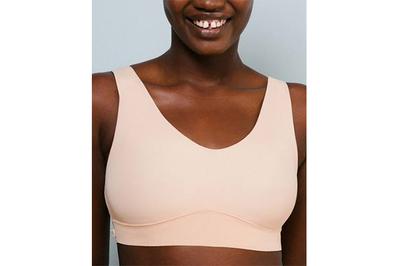 Harper Wilde Bliss Bra
A comfy crowd favorite
This pull-on, wire-free bralette is made for relaxing. It's constructed of smooth, pleasantly stretchy material that gently hugs the skin and offers medium support. With a plunging neckline and a low back, it works with low-cut tops but still offers plenty of coverage.
We recommend
Soma Embraceable Full Coverage Wireless Unlined Bra
A bralette with larger size options
This comfy wireless bra comes in larger sizes than any other bralette we tested, but sizes start at a 34C. You can adjust the band and straps for a customizable fit (unlike many other bralettes we found). It's more structured than our other bralette recommendations, so you may notice the pronounced seams under tighter clothing.
We recommend
Bali Passion For Comfort Minimizer Bra
A stylish minimizer bra
This bra has clean, classic lines and feels silky against the skin. It effectively flattens a full bust (which is the main point of a minimizer), but feels more restrictive. It comes in more colors and patterns than any of our other picks.
We recommend