The Best Massage Chairs
Updated Dec 10, 2022
When you buy through our links, we may earn a small commission at no additional cost to you.
Mechanical massage chairs promise comfort, relaxation, and self-indulgence, but shopping for one can be stressful. You have numerous models to choose from—many of which merely vibrate, rather than knead, or tout dubious features like "air ionization," "body scanning," and "chromotherapy." After testing 16 models from some of the top brands, we think the Osaki OS-Champ is almost as good as a real massage. This chair is comfortable to sit in and sturdily built, and it massages the entire body. Plus, it outperformed more-expensive massage chairs in key areas like heating and reclining.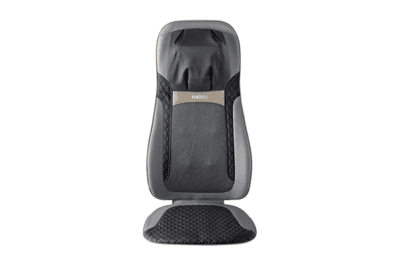 HoMedics Shiatsu Elite II Massage Cushion (MCS-845HJ)
An impressive portable massage chair
This is by far the best portable massage chair we've tested. It's easy to set up, to use, and to pack up for storage or transport. The MCS-845HJ massages the neck and shoulders, as well as the upper and lower back, and it comes with a two-year warranty.
Another good choice